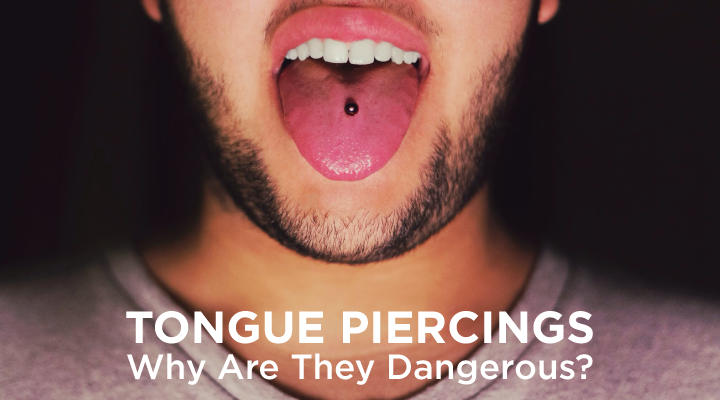 Have you ever wanted to stick a metal rod through your tongue? We haven't, but it is still a popular accessory used for self-expression. When debating the finer points of how socially acceptable a tongue piercing is, it's also important to acknowledge how dangerous they can be. Sure, a glow-in-the-dark ball is neat to show off, but is it worth the risk of infections or worse? Get the facts on how tongue piercings lead to teeth damage, infection and more.
Chances are, if you're reading this, you or a loved one is considering a tongue modification. Some styles include:
a midline tongue piercing, which is the most common type,
a frenulum tongue piercing that sits under the tongue,
a tip tongue piercing,
a side tongue piercing,
a horizontal tongue piercing,
or even a tongue split.
Why is a tongue piercing dangerous to your oral health?
Chipped teeth — This is one of the more common injuries caused by a tongue piercing. Almost everyone has bitten their tongue at one time or another. Now imagine accidentally chomping down on a metal rod or ball. Your tongue piercing alone can cause damage by colliding with the back and bottom of your teeth. This scrapes off the enamel.
Infections — Due to the large number of bacterial organisms present in the mouth (like millions), it's possible a tongue piercing can become infected at some point or another. This can happen immediately after the piercing or later during the maintenance phase. An infection can cause all sorts of problems, including tongue swelling and gum disease. In the worst-case scenarios, unfriendly bacteria can enter the bloodstream and cause gum disease or other problems throughout your body.
Choking/Swallowing — Choking on food or drinks is already unpleasant enough. Choking on bits of metal is downright dangerous. The rod can come loose and scrape or cut the inside of your mouth or even stick in your throat. If you're "lucky" enough to simply swallow your mouth jewelry, you'll have to pass it the traditional way.
When it comes to oral accessories, it is import to keep them clean. A lifestyle change is in order, as a tongue piercing will require adaptations to the way a person eats and speaks. The open hole in the tongue requires washing with an antibacterial, alcohol-free mouthwash after every meal in order to keep nasty bacteria at bay.
Dentists also recommend removing the oral jewelry each night and brushing it just like you would brush your teeth in order to remove harmful plaque. Plaque will quickly take the luster off your metal tongue rod.
If you or a loved one is considering a tongue piercing, be sure to understand all the required maintenance and risks before making such a risky commitment.
For more oral health tips, visit our blog. | To find a dentist, check out our handy search tool.
Comments
comments