Smiling has a positive effect on more than just your looks. The act can be therapeutic and it can also create a friendlier environment wherever you may be. So, we went around the office to find out what makes Delta Dental of Virginia employees smile.
"The laughter of a child."
–Darline Kingery
"My grandchildren!" (Photo featured above)
-Trish Shifflett
"Seeing my greyhound, Chloe, looking through the door as I arrive home at night followed by her excited, if somewhat spastic, 'welcome home dance.'"
–Liz Burford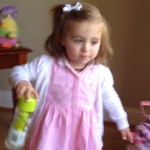 "What makes me smile is thinking of our granddaughter; just the thought of her makes me smile." (Photo at left)
–Annette Giles
"Disney makes me smile."
–Terri Green
"I smile when my daughter quotes something back to me that I have said to her over the years when I didn't think she was listening!"
–Donna Kennedy
"I smile when we save a group from our competitors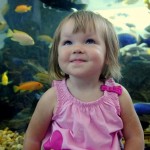 because we are able to provide their employees with the best network in VA!"
–Duncan Sheils
"Seeing my little niece, Hannah's, face light up with a smile makes me smile every time." (Photo at right)
–Jamie Akers
What makes you smile? Is it a funny text from your best friend? Those silly cats all over YouTube? Or something else? Let us know.
Comments
comments