Thanks to the many school nurses and teachers who use our program year after year and tell us how to continuously improve, we are debuting a new version of Smart Smiles In School for 2014!
Finally, there is a great children's book (for Grades K-2) to support the MyPlate recommendations from the USDA "2010 Dietary Guidelines for Americans." Jack & The Hungry Giant teaches children about choosing a variety of good foods, which is essential for oral health and overall body health. For Grades 3-5, the MyPlate recommendations and good oral health are taught through student activity sheets.
This teacher friendly, activity oriented program includes:
6 stand-alone lessons with DVD for K-Grade 2

5 stand-alone experiential lessons for Grades 3-5

Virginia Standards of Learning (SOL) for each lesson

Interactive learning opportunities with a giant tooth model & toothbrush

Student activity sheets

DVD and music CD to reinforce the lessons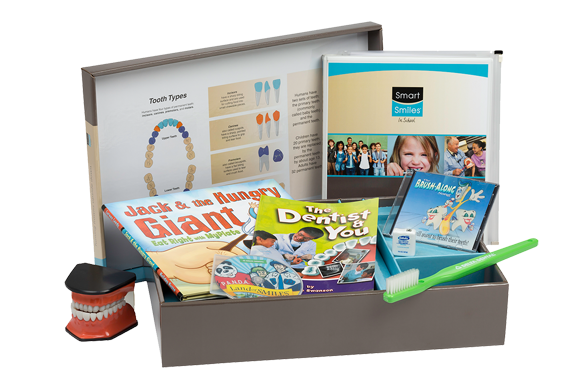 If you haven't checked out our Smart Smiles In School oral health program yet, what are you waiting for? The teaching kit provides a turnkey oral health curriculum, which not only educates students on how to form good oral health habits, but makes learning about them fun! And the best part? They are available on loan free of charge to all Virginia elementary schools!
Learn more about Smart Smiles in School or reserve a kit now! February is Oral Health Month, but the kit is great for use any time during the year!
Comments
comments