The Delta Dental of Virginia Foundation was proud to include the Piedmont Regional Dental Clinic in our list of grant recipients this year by supporting their mission to increase access to care for low-income residents of Virginia's Piedmont region. Here's just one example of the positive impact this work is making…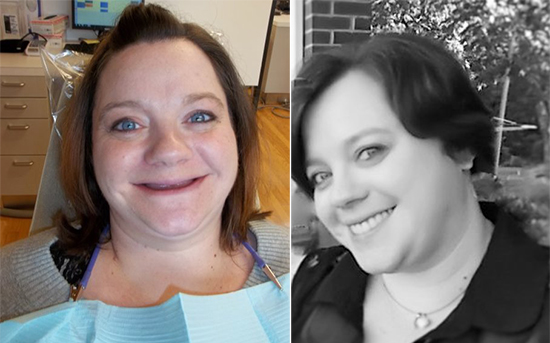 At 28 years old, Teresa was a regular smoker and hadn't seen a dentist in 15 years. As a result, she suffered from bad breath, severe tooth decay, and pain. She couldn't afford the dental care she needed, so she turned to the Piedmont Regional Dental Clinic (PRDC).
"Because of the decaying teeth I wasn't able to eat the things I loved, my breath smelled of decay and my smile, well, I covered my mouth when I laughed. If I could avoid it, I would try to keep people from seeing my teeth. When a customer once asked my boyfriend (now husband) how could he stand to be with me –'look at her smile, her teeth are horrible'- my husband spoke up for me and said you can fix teeth but you can't fix a personality," says Teresa.
She remembered hearing about the Piedmont Regional Dental Clinic where she was able to get the proper care and dentures. Teresa adds, "Some people ask me why am I so comfortable telling people I have dentures and my response is simple: if I didn't tell you I had dentures then I couldn't tell you where I got them, or how great the staff at PRDC is, how they are dedicated to their patients and how affordable it was for me to go to them. In all my dental experiences PRDC has been the best. I feel good about my smile and I feel good about myself."
Find out more about the Piedmont Regional Dental Clinic by visiting http://www.vaprdc.org/.
See the full list of this year's grant recipients.
Comments
comments