Good oral health means much more than a nice smile. It's also essential to overall wellness. The Delta Dental of Virginia Foundation proudly supports organizations across the Commonwealth that share its mission to improve the oral health of Virginians, like CrossOver Healthcare Ministry in Richmond, VA. One of our 2015 grant recipients, CrossOver Healthcare Ministry provides cost effective dental care through the CrossOver Dental Program. 
Here is just one example of how this program is changing the lives of its patients: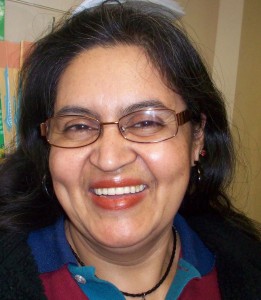 When Anya* (pictured) first came to CrossOver she had never seen a dentist. Her teeth were so decayed that the dentists at CrossOver could not help her. Gradually, it became apparent that, for health reasons, all of Anya's teeth would need to be pulled. For a young woman this is both physically and mentally devastating.
Not having any teeth made it hard for Anya to hold a job, eat healthy, be productive and smile in public.  It even affected her relationship with her husband. Soon Anya became extremely hopeless.
She continued to come to CrossOver for her health care needs and was put on a waiting list for dentures. In 2012, Anya's hope was restored!  Anya was the first patient to receive her dentures through the denture program. She has started a job and is extremely grateful to be getting her life back. Recently, Anya told a CrossOver staff member that, not only is she extremely grateful for her dentures, but for the first time in years her husband told her she is beautiful.
CrossOver Healthcare Ministry was established by volunteers in 1983 and provides quality and compassionate health care to the uninsured in the greater Richmond Metropolitan area. The CrossOver Dental Program utilizes volunteers to provide the majority of its dental services, to include preventive care, restorative care, and dentures. 25 dedicated volunteer dentists provided more than 1,000 hours of service just last year to people in need like Anya. Find out more about CrossOver Healthcare Ministry.
*Patient name has been changed to protect her anonymity.
Comments
comments