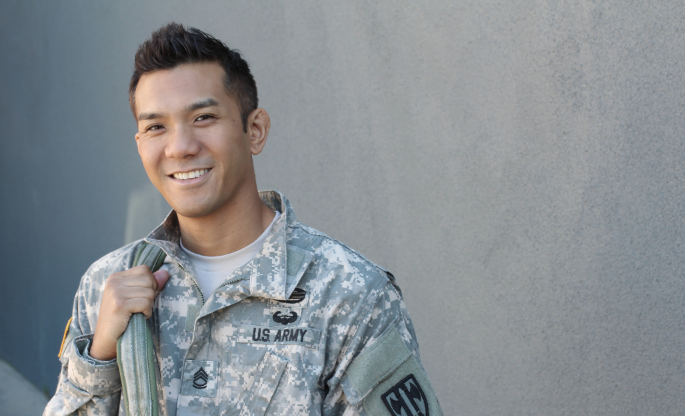 When it comes to historical discussions about the wars our veterans have fought, dentistry tends to fall into the background. However, we now know that dental health is closely linked to whole body health, which reinforces the importance of the dental work performed during wars. In honor of Veteran's Day, we're taking a look at the history of dental care and dental officers in the United States military.
Prior to WWI, most dental care was performed by civilian dentists and soldiers had to pay for their own care. The U.S. Army Dental Corps was established in 1911 to provide dental care to United States soldiers. Historically, dental officers were working under very poor conditions, not to mention the dangers they faced on the battlefield while tirelessly providing dental care for countless soldiers.
World War I (1914 – 1918)
When the U.S. entered WWI in 1914, the U.S. Army had only 86 dental officers, or one dentist for every 2,350 patients. When the war ended on November 11, 1918, the number of troops had increased from 200,000 to 4.7 million and the number of dental officers in the Army Dental Corps had increased to 4,620, averaging 1,027 patients per dentist.
Many WWI soldiers had never seen a dentist until they had donned a uniform, and it showed. During the war, dental officers provided more than 1.5 million restorations, more than 384,000 extractions, more than 60,000 crowns and more than 13,000 dentures. Numerous dental officers and assistants were wounded and killed in action, among which was Lt. j.g. Weedon E. Osborne, who was killed while carrying a wounded officer to a place of safety. He was the first in military dentistry to receive a Medal of Honor for his bravery on the battlefield.
World War II (1941 – 1945)
Following WWI, there was a significant reduction in the number of soldiers and dental officers. When The U.S. entered WWII on December 7, 1941, the Army had 316 active-duty dental officers and a Reserve corps of 2,589. When the war ended, the Navy and Army had more than 22,000 total dental officers.  The ratio of dentists to patients was much more manageable than during WWI, averaging 1:312 (infantry) and 1:487 (armor).
During WWII, dental officers performed more than 16 million extractions, nearly 70 million restorations, about half a million full dentures and two million partial dentures. Amongst the dental officers that were killed during WWII was Capt. Benjamin Lewis Salomon, who received a Medal of Honor for his heroic action on the island of Saipan on July 7, 1944. Salomon killed 98 Japanese soldiers and received several bayonet wounds and 76 bullet wounds.
Boy, we did complain a lot, but they did a good job with what they did. If we didn't have good dental health, it was damn near impossible to do what we had to do. And now, we know that dentists are more important today than we ever did back then." –Lawrence Schaub on his dental experiences during World War II.
Present
Wars have had a significant impact on the development of dentistry in England and the U.S., including the establishment of children's and hospital dental services, dental hygienists and advances in oral surgical techniques. Today, dental care for our military continues both on and off the battlefield, and is provided by TRICARE.
Thank you to all of our veterans and active-duty soldiers and to the dental officers who have provided much needed care while fighting alongside them.
Comments
comments