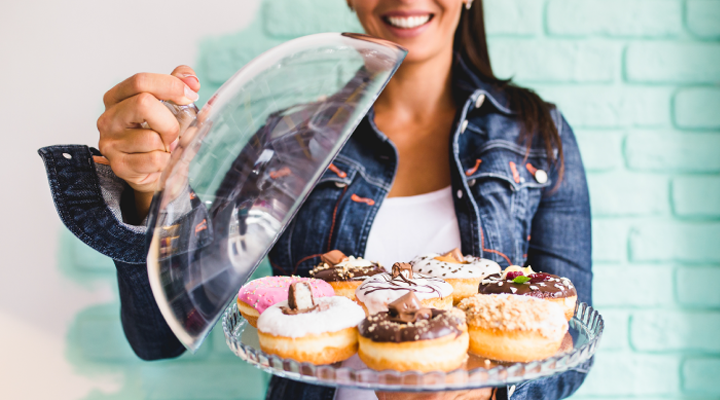 We all like a little something sweet, but there can be too much of a good thing. How can you ensure moderation when the candy bowl calls? Your brain is the best defense against your taste buds. Know your limit. The FDA recommends no more than 12.5 teaspoons, or 50 grams, of added sugar each day.
Before giving in to a sweet temptation, keep in mind that craving can lead to cavities. Don't want to face the drill? Here are a few tricks to outsmart your sweet tooth!
Chew sugar-free gum. A study by Louisiana State University found that chewing gum may reduce snack cravings. It's also useful for cleaning your mouth. Gum increases saliva production that washes away leftover food particles and reduces acids that threaten tooth enamel.
Distract yourself when a craving hits. Stay active and keep yourself busy to avoid giving into cravings. Taking a walk has been shown to reduce the urge to eat treats. Plus, it gets you away from the candy bowl.  
Keep healthy substitutes close by. When you really want something sweet, choose naturally sweet foods like fruits and vegetables. Foods such as apples, cherries, bell peppers, carrots and grapes will give you the sweets you're craving and the nutrients you need.
Be prepared. If your tummy's grumbling and you don't have healthy options available, you might make reach for a candy bar instead of a nutritious snack. Pack healthy snacks like fruit and veggies to sustain you throughout the day.
Power up with protein. Low protein levels can lead to sugar cravings. When your body needs an energy boost, sugar is a quick source. Plan to get protein throughout the day with foods such as beans, eggs, nuts, fish and lean meats.
Good oral health habits are key to avoiding cavities. Try to brush and floss after consuming sugar. If you can't sneak away to a sink, chew xylitol-sweetened (sugar-free) gum and drink plenty of water.
Comments
comments