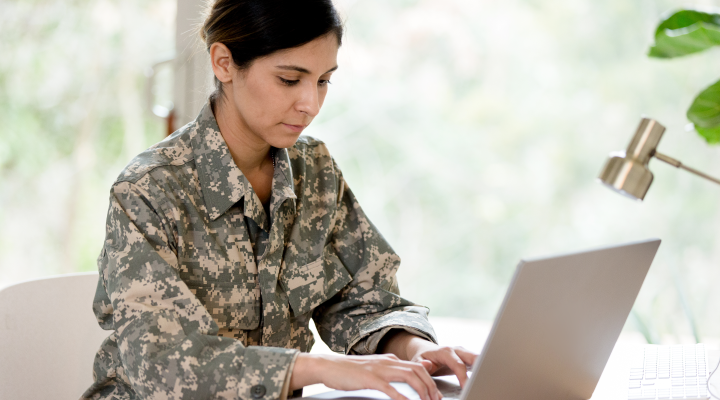 Dental care is essential to everyone when trying to maintain a healthy lifestyle. Do you have a loved one who is a veteran and doesn't think they can afford dental care? Delta Dental of Virginia may be able to help. Read on for what Delta Dental of Virginia has to offer and learn about some common dental health challenges that veterans, retirees and older adults face.
Three Common Dental Health Challenges that Veterans, Retirees and Older Adults Encounter
Tooth Decay — Tooth decay and cavities affect both children and adults but are a common problem for people 65 years and older. According to the Center for Disease Control, almost 96% of adults aged 65+ have had at least one cavity and 20% currently have untreated tooth decay.
Dry mouth — Did you know saliva plays an important role in protecting your teeth and gums from plaque and other unhealthy bacteria? This means people who experience dry mouth often see an increase in tooth decay. Drink plenty of water to help wash away bacteria and talk to your dentist about the causes of dry mouth.
Gum Disease — Also known as periodontal disease, gum disease affects people of all ages, but it worsens the longer it's left untreated. While there are many factors that cause it, a foundation of proper brushing and flossing can prevent gum disease.
Veterans, retirees and older adults who have trouble holding a standard toothbrush should ask their dentist for modified toothbrushes to better accommodate them. They may also want to consider a battery-powered toothbrush. Additionally, regular trips to the dentist are important. Your dentist can detect the presence of gum disease and work with you to create an oral health plan to treat it.
Combating age-related changes to dental health requires dedication to healthy habits.
Follow these tips for a smile that will last a lifetime:
Having dental insurance may reduce many out-of-pocket costs for veterans as almost 100% of preventive and basic dental care is covered by most Delta Dental of Virginia dental plans. To learn more about the individual dental plans that Delta Dental of Virginia has to offer, visit us at DeltaDentalCoversMe.com. In addition, below are a few other programs that veterans may want to look into.
Veteran Affairs Dental Insurance Program (VADIP)
The Veteran Affairs Dental Insurance Program offers cost-effective dental coverage with three plan options designed to meet the various needs of VA beneficiaries: Enhanced Plan, Comprehensive Plan and Prime Plan.
Delta Dental and its affiliates are proud to partner with the U.S. government to offer a national voluntary dental insurance program for eligible Veterans Affairs (VA) beneficiaries. So how do you know if you or your loved ones are eligible?
Eligible VADIP beneficiaries include:
Any veteran enrolled in VA health care
Any individual enrolled in VA's Civilian Health and Medical Program (CHAMPVA) Dependents who do not qualify as a CHAMPVA beneficiary are not eligible.
If you need to make an appointment with a dentist, use our dentist search tool at DeltaDentalVA.com or on the Delta Dental mobile app, or call us at 800.237.6060. For more information about the dental plans Delta Dental offers for veterans and retirees, visit DeltaDentalCoversMe.com.
Delta Dental of Virginia is here to support those who have served our country. For more information about the unique oral health care challenges for older adults, retirees and veterans click here or contact a regional representative today!
Comments
comments