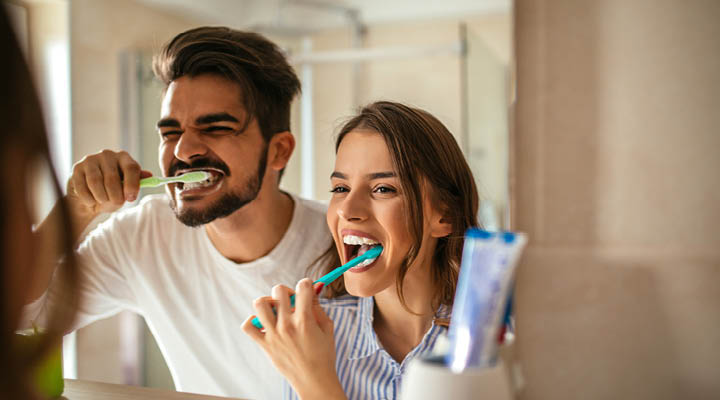 World Oral Health Day is a global initiative that takes place on March 20th every year. It's been celebrated since 2013 and serves to spread awareness about why oral health is important to every one of us. It's paramount to maintain a healthy mouth at every age!
Why is World Oral Health Day important? Oral diseases like periodontal disease are the most common noncommunicable diseases in the world, meaning they aren't spread directly from one person to another. But poor oral health can affect people throughout their lives if the problem isn't remedied. This can lead to years of discomfort, tooth loss and even death. Often the first sign of poor oral health is tooth decay or cavities, which are 100 percent preventable.
Our oral health – good and bad – impacts more than just our smile. As many as 160 different oral health conditions present symptoms in the mouth, including:
Luckily, we can all take simple steps to improve or maintain our oral health:
Eat a balanced diet with plenty of fruits, vegetables, whole grains and low-fat dairy products. Avoid foods high in sugar or starch — they tend to stick to your teeth. 
Brush gently at least twice a day, and pay special attention to the gum line. Use a soft-bristled toothbrush and fluoride toothpaste.
Floss at least once a day!
Replace your toothbrush every three to four months or earlier if it's worn out.
Visit your dentist or dental hygienist regularly for professional cleanings and oral exams. 
Keep up with your dental appointments regularly so that your dentist can monitor changes in your mouth. They can help diagnose oral and overall health concerns. Early detection of problems leads to better physical and financial outcomes. It also prevents the problem from becoming a larger issue.
Use World Oral Health Day to act as a reminder to check up on the oral health of you and your loved ones. Encourage them to maintain a healthy mouth and smile. Share this article and what you've learned about the importance of oral health!
Click here to learn about preventive dental care and why it's essential to oral health.
Looking for a dentist near you? Click here. Need to find the right dental plan for you? Click here.
Comments
comments