June is National Immigrant Heritage Month, a time to honor and celebrate the contributions of immigrants to our Nation. Delta Dental of Virginia is excited to celebrate this month by sharing stories from some of our team members. Thank you to Lisa Davis, Mirna Hosny, Rochelle Palazzola and Rachel Woodson, who chose to share their immigrant heritage story. We encourage you to explore your own immigrant heritage and learn more about Immigrant Heritage Month this June.
Each generation of immigrants has made our Nation stronger and reaffirmed that diversity is — and always has been — our greatest strength."

President Joe Biden, White House Proclamation on National Immigrant Heritage Month, 2022
Click to read their stories:
Lisa Davis
Mirna Hosny
Rochelle Palazzola
Rachel Woodson
---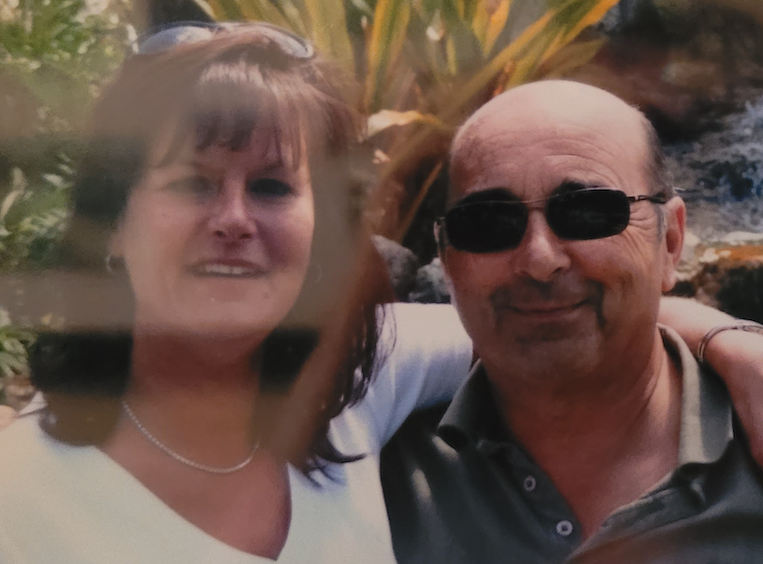 My family came to the United States from Istanbul, Turkey, in 1957. At the time, Cyprus had achieved independence from the British Empire. The Island was a country divided in half by Greek and Turkish residents, which created tension between Greece and Turkey about who would rule Cyprus. There were many debates, arguments and protests. One protest started at the University of Istanbul and grew into a riot that resulted in Christian property damage, the murder of a Greek Priest and exhumed bodies. The riot lasted for several days until Martial Law was declared.
The military took over the government, which resulted in Christian families immigrating to other countries. My family was Christian. My grandfather was originally from Albania, making him eligible to seek refugee protection in the United States. After being vetted by the U.S., my grandfather, grandmother, father and uncle moved to the United States. My grandmother's four siblings and their families went to different countries and my grandfather's remaining family stayed in Albania. Ten years later, my grandmother helped one of her sisters and her family immigrate to the United States.
What have been your family's biggest challenges?

My family faced many challenges. My grandfather couldn't find a job for about two years because of the language barrier. When he finally found a job, he was fired for being too short. Eventually, he bought a business on his own. The language barrier interfered again when my grandmother got sick. Trying to communicate and get her the necessary help she needed was difficult.

How has your family's immigration story changed your perspective?

Growing up, I didn't feel like I came from a typical American family. I was called ethnic slurs as a child, which hurt me. In addition, my Dad didn't know how to write in English which meant I had to do some things that other kids didn't have to. My uncle stepped up as a child to help the family. He learned English quickly and played an adult role in the family at a young age. His help was vital for the family to assimilate into the U.S.

My family was very courageous to leave everything they knew and start over. I get strength from knowing that I came from people who were able to do this and, in my opinion, still be successful.

What do you wish more people knew about immigrants?

It's not easy to leave where you're from and start over. Sacrifices are made, and immigrants have to work hard for a piece of the American dream and acceptance. I have other family members who immigrated to this country. They all share a willingness to work hard, and they've given up a lot for their kids to have better opportunities.
---

My father was a landowner and miner in Cochabamba, Bolivia. He suffered an economic setback and eventually bankruptcy due to the mining crisis in the mid-80s. By the 90s, the country saw a huge wave of Bolivians leaving the country.
I came to the United States in the early 90s with no knowledge of the English language and not even the equivalent of a high school education (recognized by American schools). My sister immigrated a year before me and my brother arrived a year after. Learning the language has been my biggest challenge, along with learning new customs, idioms, inside jokes and cultural norms. After adolescence, my siblings and I came to America, and we had already developed strong cultural identities as Bolivians and South Americans.
I miss my friends and family that had to stay behind as well as the food, the smells and the sounds of my city. It isn't easy to carry on our traditions here because Roanoke doesn't have a strong Bolivian presence and our celebrations are tied to our communities. But I try to call my family and celebrate special occasions in my ways, such as Father's Day, Mother's Day, Independence Day and more.
What do you wish more people knew about immigrants?
Economic and political immigration are very difficult reasons to leave your country. We are an array of people that often lack other options. We come with hopes and dreams and many times without understanding how hard being an immigrant will be. We come educated or uneducated, often speaking dialects and not the dominant language of our own countries. We come with family, or alone, and arrive in any way possible. Some come in comfortable airplanes and some brave very dangerous conditions. We all share a common desire to do better and seek opportunities for our families and ourselves.
I think there's a lack of understanding regarding the contribution that immigrants make to this country economically and culturally. I believe that if we do not acknowledge that the U.S. benefits from immigrants, we will continue to live and experience a circle of bias and resentment toward immigration in the U.S. We are not a malicious group that has come to take advantage of our host country. I have never met an immigrant who has explicitly said they came to commit crimes and deceive the system.
I come from a country where people are extremely resilient. Our family is very important, the food is great and our music can range from the saddest wind instruments to the most beautiful tropical rhythms. The geography spans from the rugged Andes Mountains with a highland plateau (Altiplano) to lowland plains and the Amazon Basin.
How can individuals support new immigrant families as they transition to the United States?
I believe the best support that immigrants can receive is sympathy, respect and non-judgment. Think about how we can connect and how we share similar hopes and dreams.

Click here to view a picture album created by Mirna's husband during a visit to Bolivia several years ago. Through his photographs, you can see the Bolivian soul.
---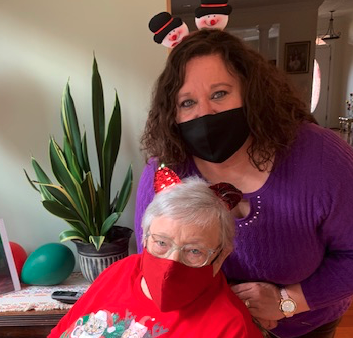 In 1907 my great-grandfather traveled to the United States from Rock Forte, Italy, to find a better way of life. He worked hard as a mason to send money back to his family in Italy, hoping they would join him in America one day. In 1909, my Nona, Anna Maria (Marianna) and other family members, including her grandfather, saved enough money to journey to America. I can't imagine the two weeks they spent traveling in third class at the bottom of the ship, but luckily they arrived safely in Ellis Island, New York. Nona was scared but happy and excited to reunite with her father after two years. The family spent a short time in New York and Pennsylvania before traveling south to West Virginia.
In 1912 my Papa Louie (Condeloro) Constantino was discharged from the Italian Turkish War after serving two years under the reign of the King of Italy, Victor Emanuel, III. Before the war, Papa lived in Melita, Italy, near Reggio Calabria. He came to America from Naples, Italy, aboard the vessel Ancona C. Italiana on October 13, 1912. The trip was scary for Papa, as the Titanic had sunk just a few months before his departure. After landing safely at Ellis Island, he did railroad work in Philadelphia for 25 cents a day and had another job at a glass company. Papa originally traveled to West Virginia for his brother's funeral, but decided to stay and worked in coal mines from 1917 to 1953.
My Papa and Nona were married on May 13, 1920, in a Catholic Church in Powhatan, WV. They had 11 children. This church has been the setting for seven generations of marriage. The church is a cherished space where my family has built their lives. As a young girl, my family always went to Sunday mass and would gather at Papa and Nona's house for dinner. We all gathered around the kitchen table, and my cousins and I would chip in to help by filling glasses with ice, setting the table and putting the food out. I have many fond memories of familia all sharing a meal every Sunday.
English was spoken in the house because Papa wanted to be respectful of this new land of opportunity, and he wanted his children to be raised to speak English rather than Italian. Nona and Papa spoke Italian, but the second generation had no idea what they said. Except for mangia, which means eat. Nobody ever left the house hungry.
Italians are very humble, hardworking, religious, caring and loving people. They're very passionate about their love of cooking and baking. We know our way around the kitchen, where we share conversations and laughter.
One tradition that we continue is the Feast of Seven Fishes observed at Christmas. My family would gather at Papa and Nona's house for this Christmas event feast and share this meal. We still use their recipe for spaghetti calamari sauce and are diligent about coming up with seven fish to eat. Calamari, scallops, salmon, shrimp, tilapia, crab, smelts and oysters are just a few examples. The feast includes a salad and Italian bread paired with a bottle of wine passed down for many generations.
We have lost loved ones through the years and some have moved away, but we still gather with our family and celebrate our traditions with close friends. We're always just a phone call away from each other.
I am very proud of my heritage and cherish all of the fond memories of my childhood. My father Nick would have been 100 this year. He would always say, "remember where you came from and never forget, as it builds character and is the root to who you will become." Amo la mia famiglia italiana — I love my Italian family!
---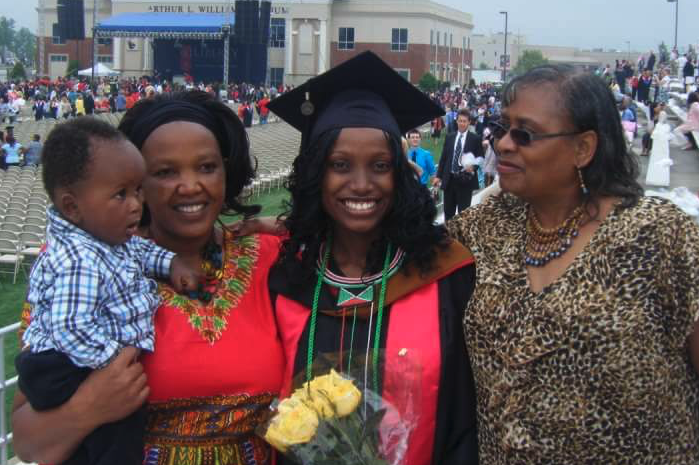 I left Kenya in 2006 and came to the United States by myself. While attending high school in Kenya, my parents learned about the opportunity to study abroad in various countries. We were interested in the United States because it advertised engaging campuses, was a more accessible cultural fit and could guarantee a successful career after graduation.
I applied and was accepted at Liberty University, and approved for a student visa. I pursued my undergraduate and graduate studies at Liberty, and while I was there, I got married and started a family. I have been in the United States for 16 years and I am blessed with a great career and a loving community.
I enjoy many of the liberties that come with living in America and I travel to Kenya as often as I can. However, due to COVID and travel expenses, I am limited in how often I can make the journey to my birth country. My father recently came to the United States and now lives with my family. Technology allows us to continue to easily communicate with our family in Kenya easily through social media and other chat apps.
Comments
comments