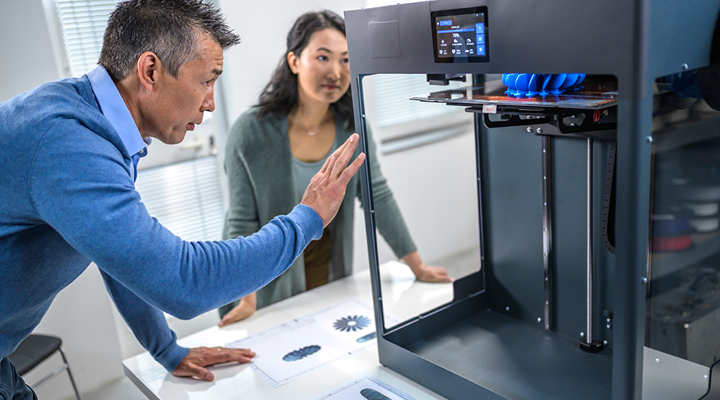 Dental care has come a long way from using sticks and rags to care for our teeth. With the help of technology, modern dental tools have made great leaps in oral health care. But how does the future of oral health care look? A quick search on the internet shows that many people believe 3D printing will change the way dental patients are treated and the dentistry field altogether.
What is 3D printing?
3D printing is a method of creating 3-dimensional objects by using a computer to create the design. This is done with a digital file that acts as a blueprint for creating an object and a 3D printer with material for creating a finished product. Materials may include plastic, powders, resins and metals. Layer by layer, the printer uses the directions from the digital file to stack and fuse material to a custom object.
How can 3D printing change oral health care?
3D printing is changing oral health care in dental offices worldwide. Not only does the technology save time and money for both dentists and patients; it also creates products that can be custom-printed based on specific needs.
Check out five ways 3D printing is changing oral health care:
3D printing in the dentist's office
With new technologies improving the dentistry field, some dental offices are investing in 3D printing machines for their office.
Here are the benefits of investing in a 3D printing machine:
Save money: Both dentists and patients will save money in the long term.

Patient costs may be reduced because the dental office saves money from 3D printing.

Timesaving: No one wants to spend more time than they need to at the dentist, and 3D printers help reduce the time spent in the office. 3D printers provide digital impression technology to get test results back within minutes instead of waiting days or weeks.
Accuracy: 3D printers give fast results that are much more accurate. There is room for human error and restoration failure when dealing with models of teeth, and 3D printers eliminate these errors.
Dental Implants and Usability: Dental implants may not always be a perfect fit due to human error. However, a 3D printer can print accurate surgical templates within minutes. 3D printers perform other functions, including composite restorations, veneer fabrication, dental models and surgical guides.
Cross Infection Control: It is essential to avoid passing germs whenever possible. In the past, physical impressions would be passed hand to hand across the dental staff, increasing the chance of transmission. 3D printers have eliminated any chance for contamination because everything is done by machine.
Esthetic Dentistry: Digital Smile Design (DSD) is a new tool that can digitally design a new smile for patients. This new product makes things so easy that it can be printed immediately after a patient approves the digital smile.
3D printing has revolutionized dentistry by creating new and advanced technologies that help save money for both the dental practice and the patient.
Comments
comments