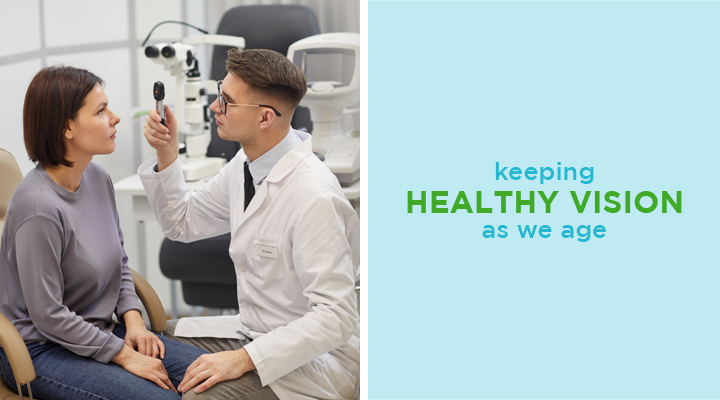 We've all heard the saying "the eyes are the windows to the soul", but did you know they are also a window to our overall health?
Vision disorders are the second-most common health condition for older adults in the United States. Even if you have 20/20 vision now, understanding what vision changes to expect is important for your vision and overall health.
Vision changes that come with aging
Regular exams with your eye doctor can help diagnose vision-related issues such as diabetic retinopathy, glaucoma, cataracts, age-related macular degeneration and more. They can also help diagnose other health issues such as heart disease and diabetes.
There's more to vision health than being near or farsighted and it's important to be aware of changes in our vision as we get older.
Vision changes to watch out for:
Blurry or weakened vision
Double vision
Redness or swelling
Flashes of light
Eye pain
New floaters
Tearing
Eyelid swelling or itching
If you notice any of these changes in your vision, it's time to visit your eye doctor. Keep in mind that you shouldn't just visit your eye doctor when you notice something wrong with your vision. Many vision issues, such as glaucoma, can be detected during an eye exam before symptoms appear.
Keeping vision healthy as we age
Visiting the eye doctor isn't the only thing you should be doing to keep your vision healthy. Preventive care between your doctor visits is another equally important step in having healthy eyes.
Here are some helpful tips to prevent damage to your vision:
Wear sunglasses outside
Eat a balanced diet
Stay active
Control other preexisting conditions
Stop smoking
Take breaks from electronic devices
If you're looking for vision coverage, DeltaVisionÒ makes it easy to care for your vision, find an eye doctor and make an appointment. Our network has more than 88,000 eye care providers at over 27,000 locations nationwide.*
Click here to learn more about our vision coverage.
*Members may choose any provider. Contact VSP for eligibility and to submit claims. All rights reserved. DeltaVision is underwritten by Stryden, Inc., an affiliate of Delta Dental of Virginia. Claims processing, claims service and provider network administration for DeltaVision are provided under contract by VSP.
Comments
comments