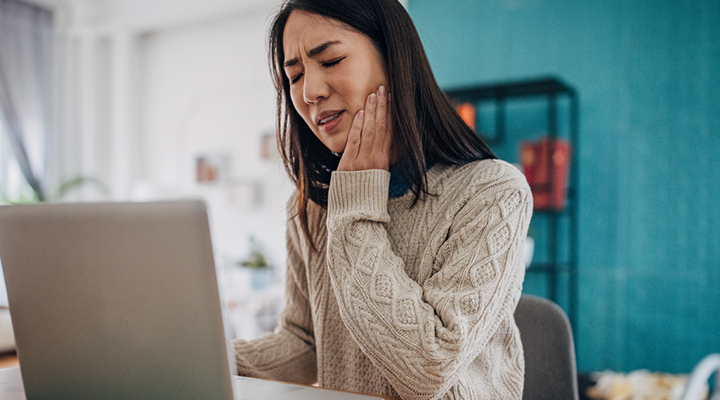 TikTok has become a powerhouse in the social media landscape due to its funny and relatable user-generated videos and its ability to quickly spread viral trends and challenges.
Many trends on TikTok are harmless. However, those that can significantly impact your oral health, such as DIY teeth straightening, pose a significant danger to naive users.
We've identified a few popular DIY teeth-straightening trends you should avoid when scrolling through TikTok.
DIY teeth-straightening trends to avoid
Rubber bands
One trend that's fashionable amongst TikTok users is playing at-home orthodontist. These pretend experts attempt to use rubber bands to close gaps in their teeth, presumably as an affordable alternative to braces.
The TikTok trend is based on a viral internet trend from 2015, when a YouTuber gained significant attention by claiming to have closed a gap between her front teeth using inexpensive rubber bands. At the time, the American Association of Orthodontists (AAO) chimed in with an alert on their website warning people to "be wary of any suggestions to move teeth with rubber bands, dental floss or other objects ordered on the internet."
Eight years later, the hack seems to be gaining traction again. DIY orthodontia can cause other problems, even if it appears to be working. The AAO's previous statement still holds true: "At best, these products can be a waste of consumers' money, and at worst, they can cause extensive damage to teeth, bone, and soft tissue that could require expensive and extensive restoration by a multidisciplinary team of specialists."
When it comes to closing gaps in your teeth, please leave it to the experts.
Tooth shaving
Another TikTok trend making dentists cringe involves individuals shaving their teeth with household items to make them appear straighter.
One of the most significant risks of at-home shaving is removing enamel. New York dentist Dr. Tricia Quartey-Sagaille took to The Today Show to explain the lasting damage done by shaving or filing teeth.
"Once (enamel) is gone, it's gone forever," she said. "You can really do irreversible harm and have long-term health impacts."
Enamel is important because it protects the inside of your teeth from bacteria, plaque and other damage. Without it, you may experience sensitivities to temperature, staining and even cavities. Repairing enamel damage involves fluoride treatments and even crowns.
Instead of shaving as a tool for teeth straightening, you should talk to your dentist about why your teeth may be the way they are.
"As a dentist, when a patient asks me to do this, the first thing I think is, 'Why are their teeth uneven in the first place?'" Illinois dentist Dr. Suhail Mohiuddin said in a TikTok video of his own.
There are a variety of reasons why teeth are crooked, and the decision to begin a teeth-straightening regimen should be made in consultation with your dentist.
Braces removal
Despite being in the middle of teeth straightening, eager teens are sharing how they're removing their braces at home. Videos have surfaced of people using spoons to attempt to pop their braces off, and orthodontists (and parents) aren't too happy about it.
Braces should only be removed by qualified orthodontists as they have the proper tools to safely remove the brackets and wires from your teeth. The process involves much more than popping off brackets. Orthodontists also grind and clean away any buildup and adhesive left on the teeth. After braces, some people also need to wear a retainer to keep their teeth from shifting further.
Instead of following the advice of a total stranger who is completely unqualified, consider the advice of a dentist like Dr. Grant Collins from Minnesota, who is happy to share his knowledge in a fun and digestible way.
Bottom line: DIY teeth straightening isn't safe
The popularity of DIY trends on TikTok can be tempting, especially when presented in an authoritative way. But when it comes to dental procedures, it's essential to prioritize safety and consult qualified orthodontists for proper teeth straightening.
Learn more about braces by checking out "3 Tips for Parents to Get Your Kid's Braces Off Faster."
Comments
comments