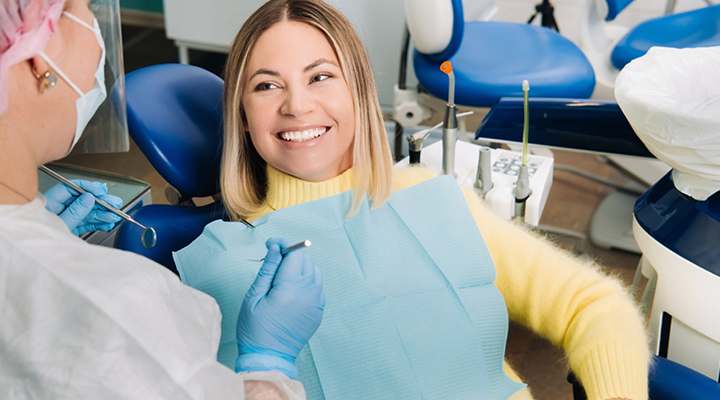 When it comes to selecting dental insurance for individuals, enrolling demands a proactive approach. To find the right plan for your coverage needs, you'll need to conduct more research and have an extensive understanding of your plan.
This process often starts with the question: How does dental insurance for individuals work?
What is individual dental insurance?
To understand how dental insurance for individuals works, it's helpful first to know what exactly individual insurance is.
The easiest way to think about individual dental insurance is as a contract between you (the plan holder) and your benefits provider. Individual dental insurance helps mitigate the out-of-pocket cost of dental services.
It's similar to coverage you might get through an employer, but it's up to you to pay premiums and adhere to the plan's rules. Delta Dental of Virginia's responsibility is to reimburse your dentist for covered services at agreed-upon levels.
Types of individual dental insurance plans
There are different dental insurance plans to help make prioritizing oral health more affordable. Here are the four most common types:
Preferred Provider Organizations (PPO): A PPO plan generally operates under a network of dentists who provide reduced fees for covered services through their contract with an insurance company.
Dental Health Maintenance Organization (HMO): HMO plans focus on preventive care and require members to use in-network dentists. They offer lower-cost coverage with fixed monthly premiums but have a smaller dentist network.
Dental Discount or Dental Savings Plans: Discount plans allow members to choose from various dentists who discount their services directly with no need to fill out reimbursement paperwork. These plans have lower premiums than PPOs and involve members paying an annual fee.
Managed Fee-for-Service Plans: These plans offer the most comprehensive dentist network and require members to pay a percentage of each service cost, often incurring higher out-of-pocket costs. The plan covers the remainder, subject to deductibles and annual maximums.
Choosing an individual plan
Dental insurance for individuals requires research to make an informed decision about your plan. Don't know what to look for in an individual plan? Follow these steps to ensure you find the right coverage for your needs:
Research reputable carriers: Begin your search by identifying reputable insurance carriers. Consider factors such as coverage options, waiting periods and costs to help make your decision.
Understand the terminology: Familiarize yourself with specific dental benefit terms as they relate to your plan. This will help ensure there are no surprises in how your coverage works down the line.
Check the enrollment period: Once you've picked a plan, the next step is to check the company's enrollment period. You can usually find the start and end dates for enrollment on your preferred carrier's website, as well as instructions on how to enroll. Mark these dates on your calendar to make sure you don't miss it.
Enroll in your chosen plan: When the enrollment period opens, follow the carrier's online instructions to select your desired plan. Pay close attention to the start date of your coverage and begin enjoying the benefits of your dental insurance!
Learn more about Delta Dental of Virginia individual plans here.
Comments
comments