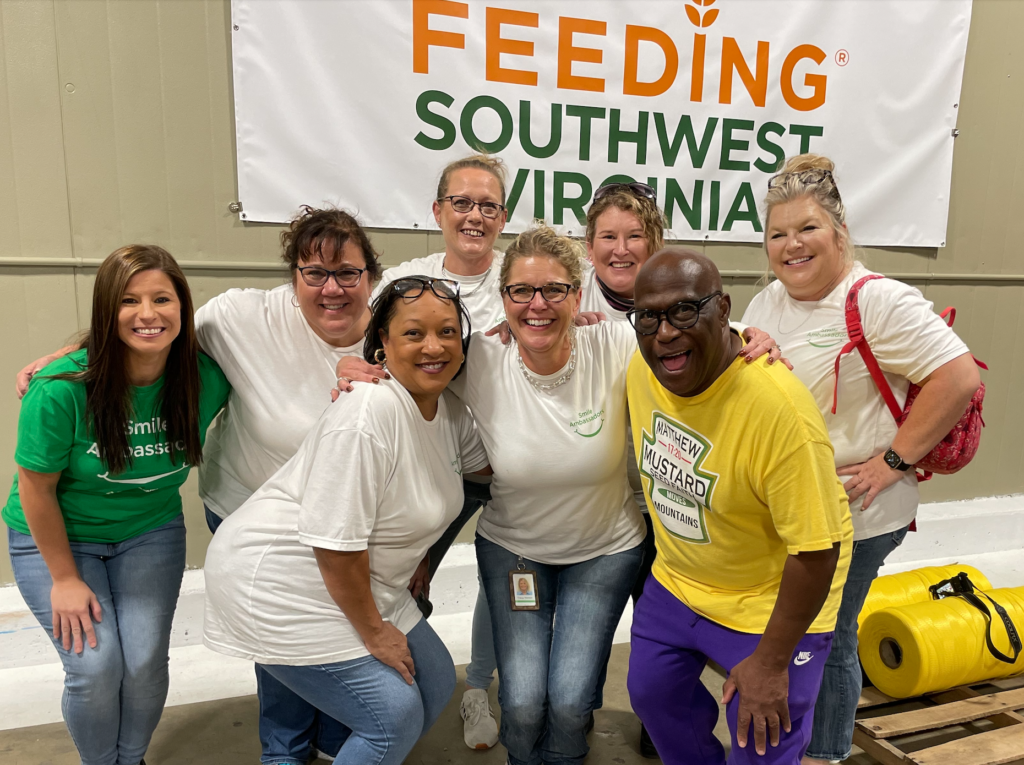 As the holiday season descends upon us, amidst the cheerful rush of festivities and shopping deals, there exists a day that stands apart—Giving Tuesday.
At Delta Dental of Virginia, we understand that taking care of our community goes far beyond caring for Virginians' teeth and vision. That's why, with support from the Delta Dental of Virginia Foundation, we work hard to give back to our communities on Giving Tuesday and all throughout the year.
About Giving Tuesday
Giving Tuesday is a generosity movement that takes place annually on the Tuesday following Thanksgiving in the United States. It was established in 2012 as a response to the consumerism surrounding Black Friday and Cyber Monday. The primary focus of Giving Tuesday is to encourage people to give back to their communities, support charitable causes and promote generosity in various forms, including donations, volunteering, fundraising and acts of kindness.
Give back this Giving Tuesday
Giving Tuesday symbolizes the true spirit of the holidays: compassion, selflessness and the power of collective goodwill. In the spirit of the holiday, we encourage you to learn more about the organizations listed below and find out more about nonprofits in your area that need your support.
Delta Dental of Virginia's support in the community
In 2023, Delta Dental of Virginia was honored to give back to our community throughout the year. Here are just a few highlights:
As of November 1, our 200 team members have donated over 1,100 hours of community service this calendar year.
148 individuals signed up to volunteer for company-sponsored give-back events.
11 team members participated in a Clean-Up Day for the winning 2022 Smile Tank organization, Healing Strides.
23 team members spent a day at the Rescue Mission of Roanoke preparing and serving meals to unhoused individuals.
We partnered with Special Olympics Virginia as a $10,000 sponsor, and 62 team members volunteered at their Little Feet Meet, Summer Games and Big Feet Meet events.
Team members volunteered to help build a home with Habitat for Humanity in the Roanoke Valley.
Team members donated $1,300 of diapers and wipes to Huddle Up Moms for their Mother's Day Diaper Drive.
Team members donated over $2,000 in products to The Humble Hustle Company's back-to-school hygiene drive.
24 volunteers completed a ROC Solid Foundation playground build for a child diagnosed with cancer.
We hosted the second year of Smile Tank, a friendly competition among team members designed to highlight nonprofits in which our team members play a role. The winner receives $5,000 for the nonprofit they nominated.
Team members raised over $1,000 for the American Heart Association Heart Walk when they organized a team and sponsored the walk with an additional $1,000.
We donated 60 Halloween goodie bags to the Boys and Girls Clubs of Southwest Virginia.
29 team members volunteered at Feeding Southwest Virginia.
We partnered with the Virginia Veterans Care Center to host Bingo with the veterans, providing fellowship, snacks and prizes.
In partnership with Carilion Clinic and Freedom First, our team members collected food to provide 50 Thanksgiving meals for low-income families through LIFT.
We partnered with the Boys and Girls Clubs of Southwest Virginia for their holiday adoption program to provide gifts for more than 115 kids during the holiday season.
Our team members created a rock garden with motivational sayings for the 9th Street Boys and Girls Club in Roanoke and donated 100 Kindness Rock Project kits to their members.
For information about the Delta Dental of Virginia Foundation, visit DeltaDentalVA.com/foundation.
Comments
comments