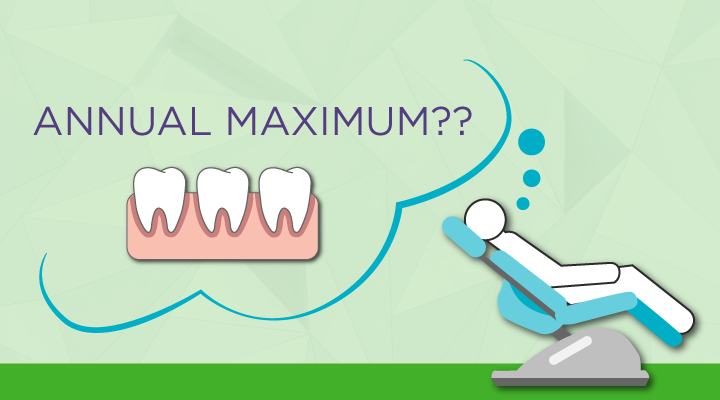 Dental benefits work better when you know how to put them to use. The first step in achieving this is understanding what dental benefits do and how they work. Specifically, understand what your dental plan does for you. Gain insight into what an annual maximum on a dental plan is to make the most of your dental coverage.
Annual Dollar Maximum + Annual Maximums on Dental Plans
Dental plan coverage will differ depending on what you signed up for. Most dental plans have what is called an "annual maximum." This is the total amount of money the dental insurance carrier—say Delta Dental—will pay for a member's dental care within a specific period of time. That time period is called a benefit period. 
A benefit period can start at different points of the year. For now, we'll assume your plan's benefit period runs on a calendar year. That would mean the annual maximum for your plan's year runs January through December.
If your plan's annual maximum is $1,000, for example, your dental insurance carrier will pay their portion of dental work until they pay out a total of $1,000. Your plan details will explain if a procedure has cost sharing. The annual maximum on your dental plan resets each plan year.
Keep in mind that, depending on your dental plan, services that are considered diagnostic or preventive may not count toward your annual maximum.
The annual maximum in a dental plan is often confused with the "out-of-pocket maximum" and "deductible." Now you know the difference between the two!
Get a quote today on a dental plan for you or your family, CLICK HERE
How Do Annual Maximums on Dental Plans Work?
Visit your benefit portal today for information about your plan's annual maximum.
Here is one example of how your dental plan's annual maximum could come into play: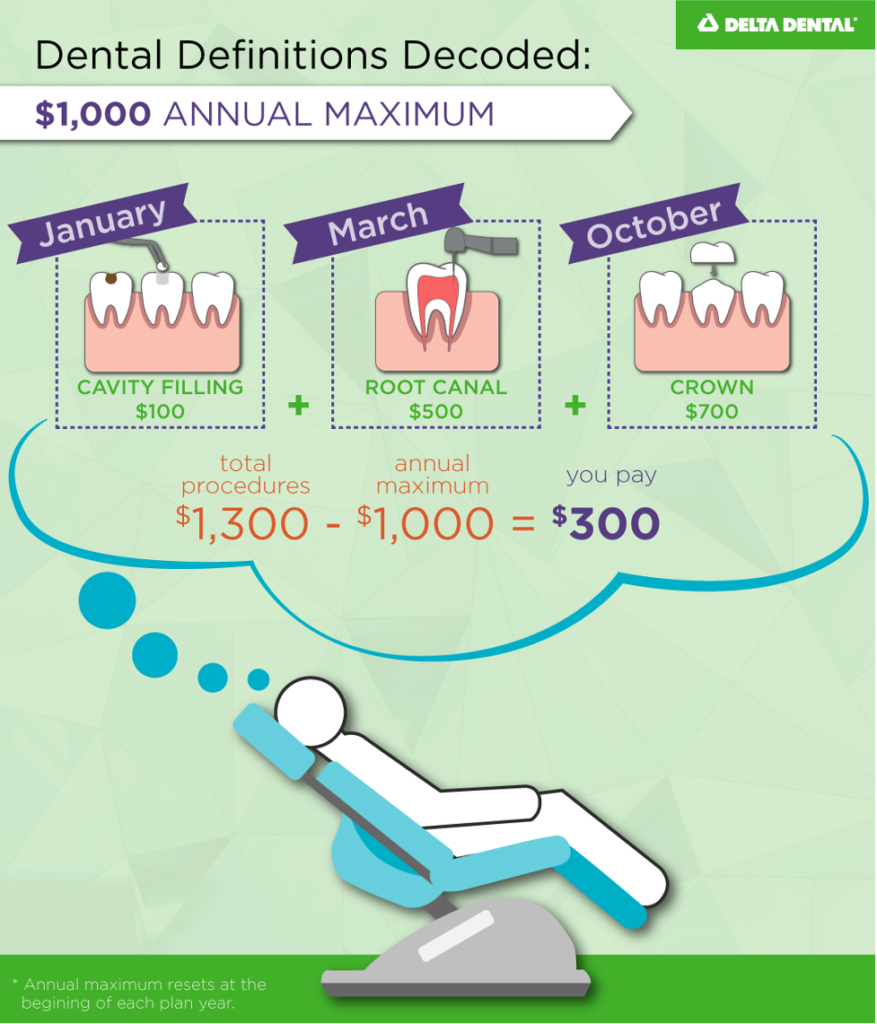 (**- This is a hypothetical scenario on what these procedures would actually cost. You should always ask for a pre-treatment estimate from your dentist which will show you exactly what you will owe according to how your dental plan is structured)
Using the example from above, assume your plan has an annual maximum of $1,000.
During the year, your dentist says you need a crown, root canal, and a cavity filling.
Consider the details of your dental benefits plan. After logging into your account, you're reminded that you signed up for a plan that splits the cost of these procedures between you and Delta Dental. All plans are slightly different, so coverage varies based on your plan.
Typically, you will save 50-80% on these kind of procedures on their own.
After the dental office calculates your coverage, it is determined that Delta Dental covers a total of $1300 from these three procedures during the same calendar year.
Since your annual max is $1000, then $1300-1000= $300 is what is left for you to pay out of pocket for the year.
In this hypothetical scenario, your annual coverage savings would be $1000, which is about 50% of the total cost. Keep in mind too that on January 1 of the following year, your annual max resets back to $1000 for this next year.
Log into your member portal to learn:
Your plan year,
Your annual maximum,
What percentage of cost is covered for preventive, diagnostic and restorative services.
Ready to find the best individual and family dental plan for you? Check out:
Comments
comments