74% of Americans cite Mexican as their favorite cuisine, but this Americanized favorite doesn't have to be sinful. It's important to pick healthy alternatives to your favorite Mexican dishes, as the food we eat affects the health of both our bodies and our teeth. Your body is a system—healthy eating patterns can help prevent tooth decay and gum disease. So make the most of your Mexican with these get-fit recipes:
• Mango Margaritas
No thanks to premade syrups and mixes, guzzling frozen green goodness is a gut buster. 1/4 cup of sweet and sour mix has at least 17 grams of sugar, sometimes more, and it's no secret that sugar is anything but sweet when it comes to healthy teeth. So make like Taylor Swift and shake off the sugary mix from your marg. Our favorite recipe is full on fruit and contains no added sugar. On your mark, get set, manGO!
One 10-ounce bag frozen diced mango
1 cup tequila (preferably silver, 80 proof)
1/4 cup fresh lime juice
1/2 tablespoon orange extract
1 tablespoon sugar substitute, such as honey or agave
2 cups crushed ice
Combine ingredients in a blender and blend until smooth.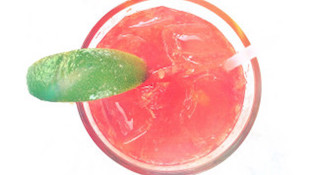 • Smile-Friendly Salsa
You may want to sit down for this, hamburgers and hotdogs. Among Americans, salsa is more popular than ketchup. The flavorful condiment can be a touchdown for teeth…if you make it without enamel-harming acids.
1 large tomato
1/2 green pepper, diced
1/4 small onion, diced
1/4 cup cilantro leaves, diced
1/2 tsp. kosher salt or sea salt
Combine all ingredients in a food processor until slightly chunky.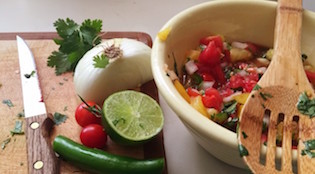 • Top-It Taco Bar
Before you fire up your fiesta, say adios to cheese and sour cream. Add veggies, salsa and guacamole or avocados for fuller flavor and more health benefits. Teeth and tummy tend to favor the same healthy flavors. Plus, the calcium and Vitamin C can help healthy mouths thrive. Here's a healthy recipe for homemade tacos that you can top with your choice of veggies:
1 pound boneless, skinless chicken breasts (or lean protein of your choice)
1 packet low-sodium taco seasoning
1/4 cup water
Extra virgin olive oil, for drizzling
1. In a medium-sized skillet over medium-high heat, drizzle olive oil.
2. Once pan is warm, brown chicken in pan.
3. Add taco seasoning and water. Stir until thickened.
4. Top with Smile-Friendly Salsa (recipe above)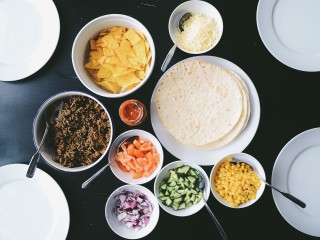 What are you favorite healthy Mexican dishes? Share them in the comments!
Comments
comments