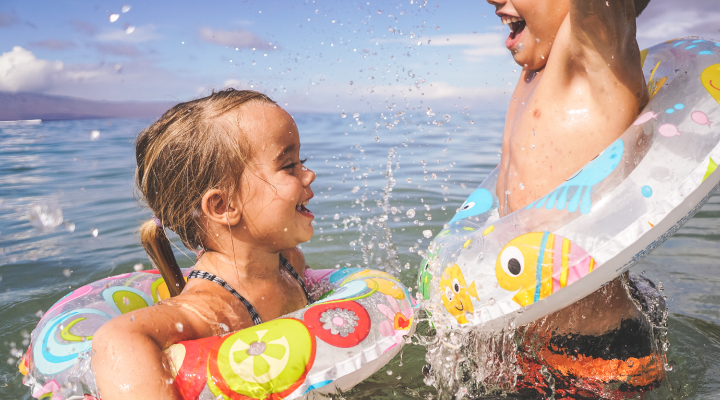 Between the heat, blue skies and sunshine, your kids can't seem to get enough of their slip-and-slides, soccer camps and swimming lessons. But besides fun, hot temps can mean heat hazards.
Here's how to keep little ones healthy during the dog days of summer:
How hot is too hot?
It's hard to keep kids indoors during the summer months, especially if they play sports. Exercise caution when the heat index starts to get above 90° and especially when it gets to 100°. Try to keep outdoor play times in the morning or evening hours and when venturing outside in the hotter weather, seek shade in the form of umbrellas and hats. Clothing is key for kids—dress them in light colors and lightweight fabrics. If your kids play summer sports, here are some guidelines to keep them safe.
Sunscreen safety
We all need sun exposure and kids are no different. It's the top source of vitamin D, which is critical for developing bones (including teeth!). However, you can have too much of a good thing and different skin types react differently to the sun. If your kids are fair-skinned or are going to have extended sun exposure during the hottest hours of the day (10 a.m. – 4 p.m.), sunscreen can help protect them.
Unfortunately, most commercial sunscreens include harmful ingredients, which soak into the skin and are absorbed into the bloodstream. Choose a sunscreen with an SPF of at least 30 that contains titanium dioxide or zinc oxide to most effectively (and safely) block the sun's harmful rays and avoid these toxic sunscreen ingredients. Here's a guide to the best scoring sunscreens for kids in 2017.
Kids aren't drinking enough water.
The majority of American kids are dehydrated. The amount of water kids need varies based on their age, weight and level of activity. But generally, children ages 4 to 8 should drink 5 cups a day. And as kids get bigger, so should their water intake. Extra ounces should also be added for extreme heat, humidity and activity. PRO TIP: Water-based foods like watermelon count towards kids' daily intake. However, water is best.
Fun is important, but safety should always come first. Take precautions to keep your kids safe and smiling all summer long!
Comments
comments