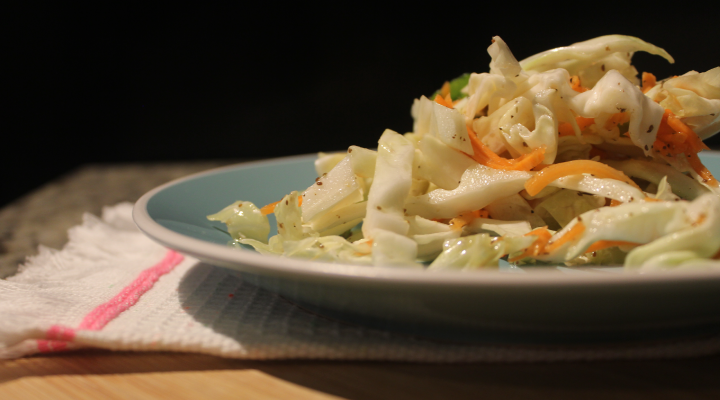 Looking for a low-fat, vinegar-based slaw that's perfect for anything from a side dish for barbeque to a topping on your tacos? This mayo-free coleslaw recipe will be your new summer staple:
INGREDIENTS
4 cups shredded green cabbage
1 cup shredded carrots
2 chopped green onions
      Dressing
¼ cup apple cider vinegar
2 tablespoons oil (avocado, olive or sunflower)
2 tablespoons sugar (optional)
¼ teaspoon ground celery seed
¼ teaspoon dry mustard
¼ teaspoon salt
¼ teaspoon pepper
INSTRUCTIONS
In a large bowl, toss the shredded cabbage, carrots and chopped green onions.
In a small saucepan over medium heat, combine the sugar, salt, oil, dry mustard, celery seed pepper and vinegar and bring to a boil.
Simmer until the sugar is dissolved.
Let the mixture cool, then pour over the vegetables and toss.
Cover and refrigerate for at least 2 hours.
This vinegar-based slaw is delicious and tangy, but make sure you wait at least 30 minutes before you brush your teeth after enjoying.
Looking for more healthy dishes? Check out these recipes:
Leave us a comment and let us know if you'll try this coleslaw recipe without mayo!
Comments
comments