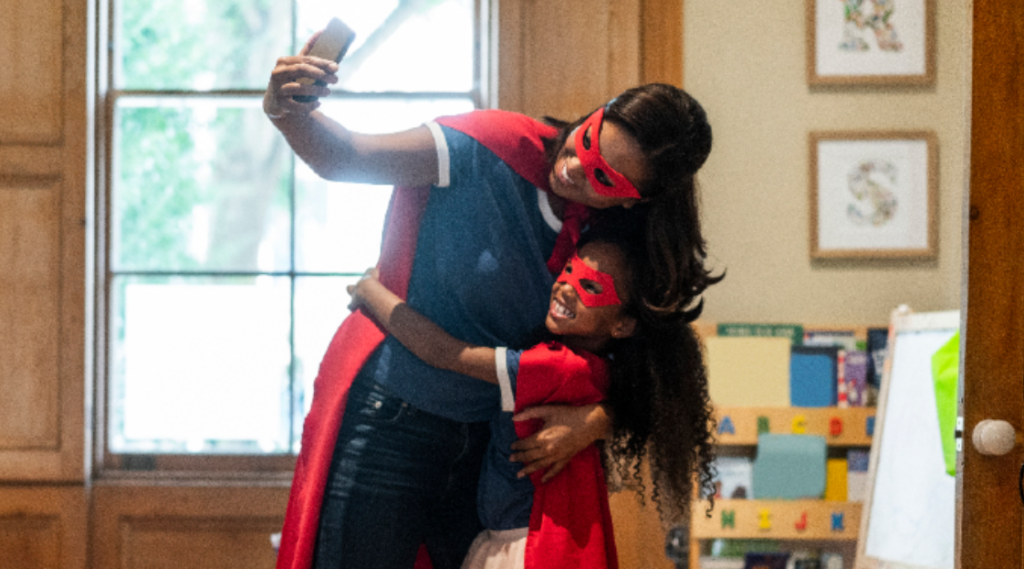 Sometimes we can easily spot opportunities for saving money in our day-to-day lives. Other times, it helps to have them pointed out to us. Did you know that having good oral health could help you save money on your annual dental care costs? A healthy smile has a positive impact on our wallets. Americans with dental benefits are more likely to go to the dentist, receive preventive care, and experience greater overall health. That's the value of dental insurance.
Eighty-five percent of Americans believe oral health is very or extremely important to their overall health, according to a survey from Delta Dental, and about 78 percent have dental coverage. Learn more about how preventive dental care, good oral health, and dental insurance go hand-in-hand.
It makes dental care more affordable
While it's important to brush and floss well, regular visits to the dentist are also important to maintaining a healthy smile. Because dental insurance focuses on prevention, many services like exams, cleanings and X-rays are typically covered at 100 percent. And preventive exams from the dentist ensures things are addressed before they become a costly problem.
Dental insurance also helps reduce out-of-pocket costs for many procedures by cutting down on what you pay. Without dental insurance, you would be responsible for the full cost of treatment.
Delta Dental helps you save even more because we negotiate lower fees with our in-network dentists. And with more than 158,000 dentists participating nationwide, we make it easy for you to find one that's in-network.
To learn more about our dental plans, CLICK HERE.
The savings can add up
See how annual dental care costs start to add up for a family of four without dental insurance. Each family member should visit the dentist twice annually for preventive care. This example also includes a cavity filling.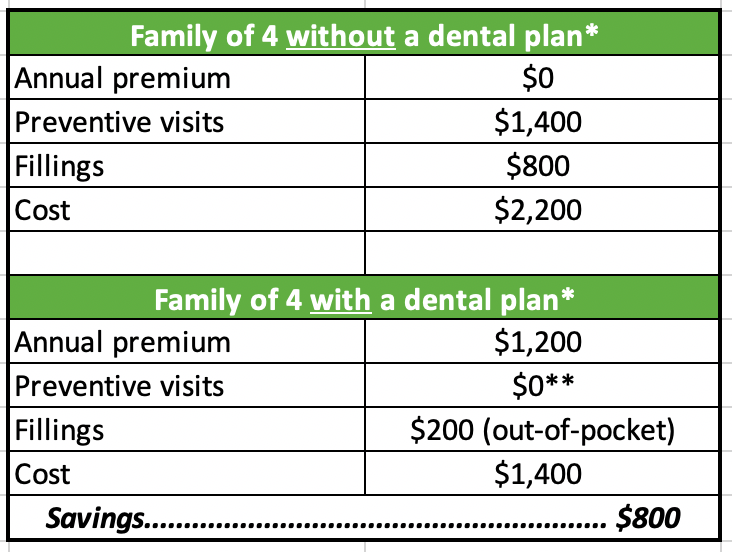 *Plan premium and dental service fees are for illustrative purposes only. Premium rates are dependent on your plan. ** Check your specific plan details, as preventive coverage may vary.
You're more likely to get the care you need
Families and individuals with dental insurance are twice as likely to get preventive care than those without it. And people who develop more complicated oral problems are more likely to skip needed treatments due to cost if they don't have dental insurance. Mostly untreated and often preventable oral diseases result in more than 2 million emergency room visits nationwide each year.
You're more likely to avoid future dental problems
When you schedule regular preventive checkups, your dentist can detect problems early. This can help you avoid more costly and complex procedures, like crowns and root canals, down the road. In fact, for each dollar spent on preventive services, it is estimated that $50 or more is saved on more expensive procedures down the road.
It's good for your overall health
Dental care is not only good for your smile, but it has a positive effect on your overall health. Studies show that oral health conditions like gum disease are linked with many chronic health conditions like diabetes, heart disease, stroke, kidney disease and pregnancy complications.
During an exam, your dentist can potentially detect signs in the mouth of more than 120 diseases, including oral cancer. This can lead to earlier, less costly and even life-saving treatment.
And when oral diseases go untreated, it can lead to problems with eating, speaking, learning and productivity for children and adults.
It's good for your well-being
Your oral health affects your day-to-day sense of well-being. Many say they avoid smiling and reduce social participation because of their oral health. A smile is not only important for your self-esteem and confidence, but the simple act of smiling has shown scientific evidence of having a positive effect on overall happiness even when you don't feel like smiling, which can boost immunity against disease in your body.
A smile affects every aspect of your life in a positive way. It will also impact the world around you. A healthy smile is the gift that keeps on giving, to you, your body and those around you.
To learn more about our dental plans for you and your family, CLICK HERE.
*Updated November 2020
Comments
comments