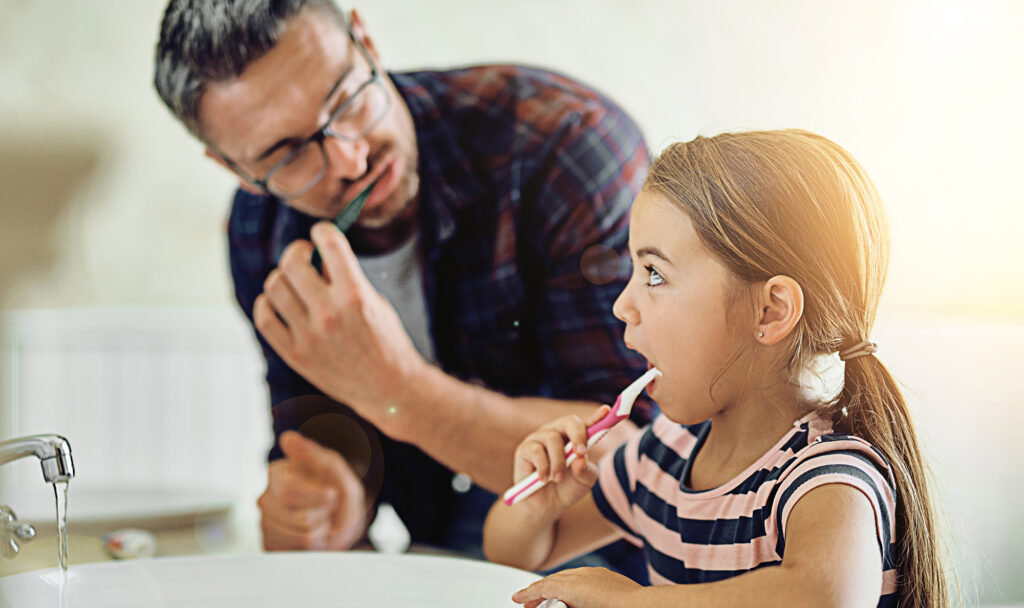 February is Children's Oral Health Month, making it a great time to talk about children's dental health. When teaching your children healthy dental habits at home, it's important to remember that oral health doesn't just affect your mouth, but your entire body.
How oral health impacts overall health
Parts of our body, like our mouths and stomachs, have good bacteria. But when we don't brush and floss regularly, we can get bad bacteria in our mouths that may travel to other parts of our bodies. Think of the mouth as a highway to all other organs, such as the heart, lungs and stomach. If we don't brush and floss daily, all that bad bacteria not only breaks down our teeth and gums, but can jump on the highway and travel down to other parts of the body, possibly making us sick.
Dental health has also been linked to several diseases. A few examples of conditions caused by poor dental health are infections in the lining of the heart, cardiovascular disease, pregnancy complications and pneumonia. There are also diseases that can make you more likely to have gum and oral health issues, such as diabetes. Diabetes lowers the body's ability to fight off infection, which may put you at higher risk for gum disease.
Teaching oral health in Virginia elementary schools
For Children's Oral Health Month, we usually have a dentist or dental hygienist come to school to perform dental screenings and cleanings for children. Many dental offices also offer presentations to schools to show children why good dental hygiene is so important. School nurses also provide classroom education on dental care.
Teaching oral health at home
Since most students across the Commonwealth are learning in a virtual environment, it is now even more important for parents to teach children the importance of oral health at home to help them develop good health habits an early age. This includes good dental hygiene and healthy eating habits. Having good eating habits and keeping appointments for regular dental checkups may also limit complications, and expensive dental procedures, later. Teaching your children healthy habits now sets them up for a healthy future.
So, let's talk about good dental hygiene and fun ways to help get your children interested in learning about oral health. It is important to brush your teeth twice a day with fluoride toothpaste. Fluoride is important because it helps fight cavities, rebuild tooth enamel and fight bad bacteria. Fluoride can be found in both toothpaste and mouthwash. It is important to floss every day and use mouthwash when necessary to remove any leftover particles of food. If food is left over in the mouth, it can break down and start to grow bad bacteria. These bad bacteria may cause gum disease or cavities and other infections in the body.
Another way to practice good dental hygiene is to eat a healthy diet and avoid foods and drinks with added sugars. Sugar wears down tooth enamel, causing bad bacteria to grow, which helps form cavities. You also want to replace your toothbrush every three to six months or if you notice the bristles have become worn. Change your toothbrush if you have recently been sick. Bacteria from colds or flu can stay on your toothbrush, causing you to get sick again, even after you have been treated for an illness.
Making oral health fun!
How can you get your children involved in learning about oral health? Make it fun! Make weekly or monthly charts where they can check off when they brush, floss and use mouthwash. Set goals, such as brushing twice a day for a whole month. Children enjoy reaching goals when tasks are set up like games. Reward them for good habits. Let them pick their own toothpaste and toothbrush. Set a two-minute timer or download a tooth brushing app for kids. Make tooth brushing a competition – who can show me the best brushing!?
Virtual oral health resources
You don't need to do it alone! There are great resources online. Below are some links from Delta Dental of Virginia to help your children practice good dental hygiene and take care of their dental and whole body health!
Delta Dental Let's Talk Teeth Video
Delta Dental Brush Like a Champ Video
Delta Dental Fantastic Floss Video
Delta Dental I Spy Healthy Foods Video
Delta Dental's Original Tooth Fairy Poll
Delta Dental of Virginia's Coloring and Activity Book
Guest Blog Author:
Emily Templeton, School Nurse for Otter River Elementary, Goode, Virginia
Comments
comments