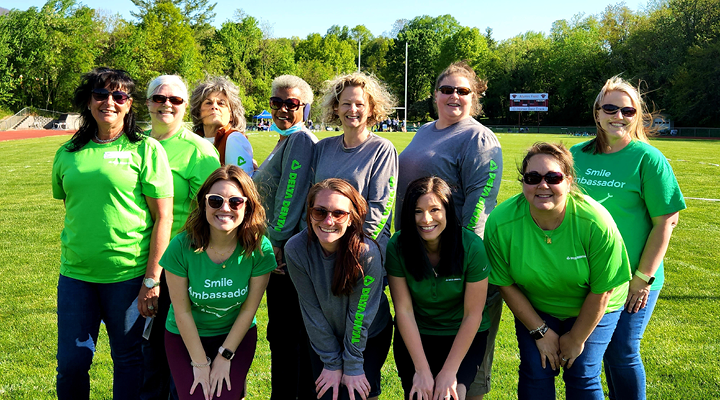 A new year is a chance to start fresh and make plan for the exciting year ahead. It is also a great time to reflect on the activities of the previous year and celebrate your accomplishments.
Throughout the last 365 days, Delta Dental of Virginia team members, the Delta Dental of Virginia Foundation and many community partners have worked hard to create impact and positive change in the Virginia communities we serve. Now, let's take some time to celebrate those efforts as we plan for new and expanded initiatives in 2023.
Delta Dental of Virginia 2022 Community Accomplishments
In 2022, Delta Dental of Virginia was honored to have many opportunities to give back to the people and communities of Virginia with the support of our Foundation and our employee community impact group, the Smile Ambassadors.
The Delta Dental of Virginia Foundation is committed to improving the oral health of all Virginians through education, program development and community partnerships. Below are a few examples of the benefits to the community as we look back on last year's accomplishments.
12,168 students taught oral health prevention through the Smart Smiles program.
Funded the expansion of the Dental Assistant program at Mountain Empire Community College, doubling the number of dental assistants.
Partnered with the Gene W. Hirschfeld School of Dental Hygiene at Old Dominion University to develop the Dental Health Summer Institute, a five-day course intended for diverse groups of high school students interested in dentistry as a profession.
Provided four schools with $50,000 endowments each to produce scholarships for Dental Hygienists at Old Dominion University, Virginia Western Community College, Wytheville Community College and Northern Virginia Community College.
Funded a new Pediatric Dental Residency at Carilion Clinic. The residency will be operational in 2024 and is expected to support two residents serving approximately 7,000 children in the first year.
Funded $280,000 in loan repayments for two dental hygienists and 13 dentists who all agreed to serve one year in Virginia safety-net organizations.
Provided more than $780,000 in grants to 13 non-profit organizations that ensure vulnerable populations have access to oral health.
Celebrated the Foundation's ten-year anniversary with more than $500,000 in additional community support.
Opened the LIFT (Local Impact for Tomorrow) Center at Fallon Park Elementary School, providing oral, mental and overall health services to students and family members.
Through the School Based Oral Health Learning Collaborative, 36 schools now have school based oral health programs providing access to care to over 13,000 children.
The George A. Levicki, D.D.S., Endowed Scholarship provided $5,000 scholarships to four dental students interested in providing care in rural areas of Virginia.
Sponsored the 11th annual Delta Dental Oral Health Endowed Lecture.
Awarded $90,000 to partner non-profits in celebration of our ten-year anniversary to further the advancement of good oral health.
Our employee led, all volunteer-driven Smile Ambassadors group continues to guide Delta Dental of Virginia's efforts around philanthropy, volunteerism and environmental stewardship. Below is a summary of the community accomplishments led by our Smile Ambassadors and carried out by our team members.
Provided 7,000 bamboo toothbrushes to include in 3,500 Ready Bags for families who are dealing with an unexpected hospital stay after their child receives a cancer diagnosis
Donated 14 units of blood, supporting the lives of 42 patients in need
Built four ROC solid playgrounds for children diagnosed with cancer in the Virginia community
More than doubled the use of volunteer hours in 2022 compared to 2021
Donated $20,000 to non-profits focused on food insecurity
Donated $4,500 to Fallon Park Elementary for school supplies and student basic needs
Provided 100 Thanksgiving meals to low-income families with the partnership of Carilion Clinic and Freedom First Credit Union
Collected 30 bags of trash during Clean Valley Day
Volunteered at the Little Feet Meet for Special Olympics­
Collected $2,400 from team members for food banks in the Commonwealth
Delta Dental of Virginia's Foundation is Making a Difference
For more than 10 years the Delta Dental of Virginia Foundation has been dedicated to improving oral health in the communities it serves. The Foundation has contributed more than $6 million to support countless oral health safety-net providers and made an additional statewide contribution of more than $4 million in 2020 to support Virginians impacted by COVID-19.
Learn more about Delta Dental of Virginia's community impact and the initiatives we have planned for 2023 at the Delta Dental of Virginia Foundation.
Comments
comments