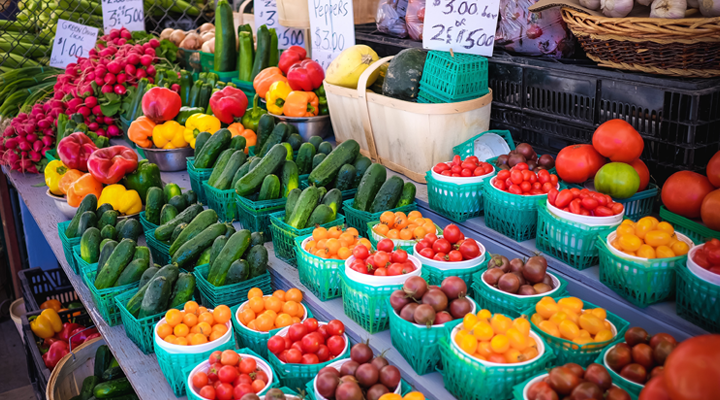 Summer is the time to get outside, enjoy the sunshine and explore what your city has to offer. One of the most popular summer activities is going to the local farmers market and trying something new or picking up fresh groceries for the week.
If you're not sure what to get the next time you're perusing the farmers market, try some of our favorite tooth-friendly finds!
Tooth-friendly food at the farmers market
Although the farmers market is a great place to get sweet treats, it also offers an opportunity to stock up on food that's good for your oral and overall health. Here are a few items to look for:
Carrots
Freshly picked carrots from a local farm are not only great for your eyes and vision, but they can also help keep your teeth clean. When you munch on a carrot, the action of chewing stimulates saliva production in your mouth. Saliva helps rinse food particles and bacteria from the mouth. Additionally, carrots are also packed full of vitamin C, calcium and keratins that are good for your overall health.
Apples, celery and other crunchy fruits and vegetables are also excellent options for cleaning teeth and adding nutrients to your diet.
Leafy greens
Whether you need romaine, kale or spinach, the local farmers market is the place to go shopping.
Leafy greens benefit the health of your teeth in a couple of ways. Most are full of calcium, a mineral that helps keep teeth and bones strong; folic acid, a vitamin that can help protect against open sores in the mouth and on the tongue; and other nutrients that keep your teeth and body healthy. If you don't like salads, try adding leafy greens to your sandwiches for an extra crunch.
Nuts and seeds
Sugar and cinnamon covered nuts are a favorite treat at farmers markets. Unfortunately, they aren't great for your oral health. However, raw nuts and seeds can be very beneficial for your teeth and body!
Many nuts and seeds contain a mix of vitamins and minerals that can help strengthen and protect your teeth. For example, cashews are a good source of phosphorus, a mineral that exists in bones and teeth. Like calcium, phosphorus helps build strong teeth and bone structures. Peanuts and almonds are good sources of calcium, and the latter also contains vitamin E, which has anti-inflammatory properties that can help reduce the effects of gum disease.
Red meat
The farmers market is a great place to find red meat, which is full of nutrients like iron, zinc and B vitamins. Iron is a mineral that supports the production of red blood cells. People who have an iron deficiency can develop anemia, which in turn puts them at an increased risk for oral health issues like periodontal disease. Red meat is also a good source of vitamin B12. People who have a vitamin B12 deficiency can exhibit mouth and tongue soreness among other symptoms.
Keep moderation in mind when consuming red meat as eating too much can increase health risks.
Healthy finds at farmers markets go beyond oral health
Buying fresh and nutritious food isn't the only benefit of going to the farmers market. Purchasing locally grown food helps support small businesses and the community. Keep an eye out for tooth-friendly finds the next time you're enjoying the farmers market and remember that small businesses appreciate your support.
Looking for more healthy alternatives this summer? Check out this blog: Healthy Snack Swaps for July 4th – and All Summer Long.
Comments
comments