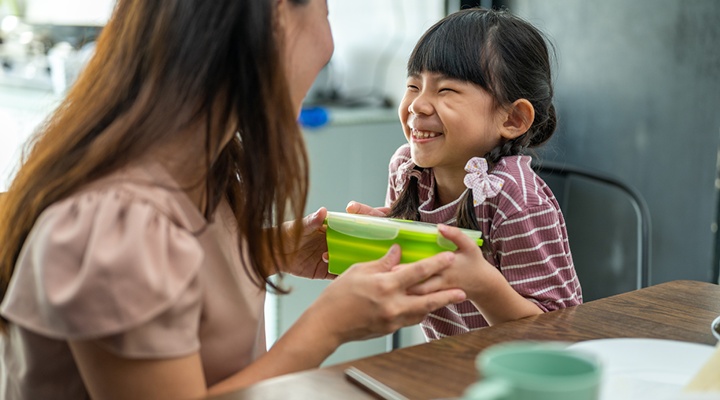 You might love whole grains and leafy greens, but getting your kids to show the same enthusiasm toward a healthy diet can be tricky. Here are four healthy eating activities for preschoolers to encourage a well-balanced diet in kids.
Encouraging healthy eating for preschoolers
Getting your preschooler to eat a healthy meal is all about making it fun. Try these tips below to help make healthy food exciting.
1. Play with shapes
A healthy sandwich is more fun to eat if it's in the shape of your child's favorite animal, an airplane or even a simple heart! Sliced fruit like watermelon can also be easily cut into entertaining shapes like stars. Any cookie cutter will do the trick!
2. Make it finger-food friendly
Your child might only want to eat part of their dinner, but perhaps they always devour their snacks. While snacks are fun (we love them too), they don't have the complete nutrition a balanced meal does. Trick your kids into eating their lunch by cutting their sandwiches into small pieces and choosing fruits and veggies that are also cut up rather than whole fruit. Breaking down their meal into bite-sized options makes it seem less intimidating and promotes portion control. Finger foods make a meal appear like snacking, allowing you to sneak in all the necessary nutrients.
3. Bento box it up
A bento box, a Japanese single-portion box, is perfect for school lunch. Bento boxes are made of small, separated compartments ideal for tiny fingers. They provide the perfect opportunity for variety in the meal while keeping portion sizes healthy. Try offering a variety of flavors and textures, such as boiled eggs, sliced grapes, berries, cubed chicken breast, bite-sized sandwiches and more. You can find bento boxes online for your child and yourself!
4. Make mealtime fun
Getting your toddler or preschooler to sit down for a complete meal may be challenging, but if you make it fun, they're more likely to stick around! Ask your little ones to demonstrate how a dinosaur would eat something on their plate or give them unique utensils, such as a straw, to try to eat with. The goal is to make mealtime fun instead of a fight.
Healthy eating for preschoolers and toddlers is important
If getting your child to eat healthy is like pulling teeth, don't be discouraged. You're setting them up for a healthier lifestyle in the future every time you offer nutritious foods now.
For more tooth-friendly food ideas, check out "How to Pack a Tooth-Friendly Picnic."
Comments
comments