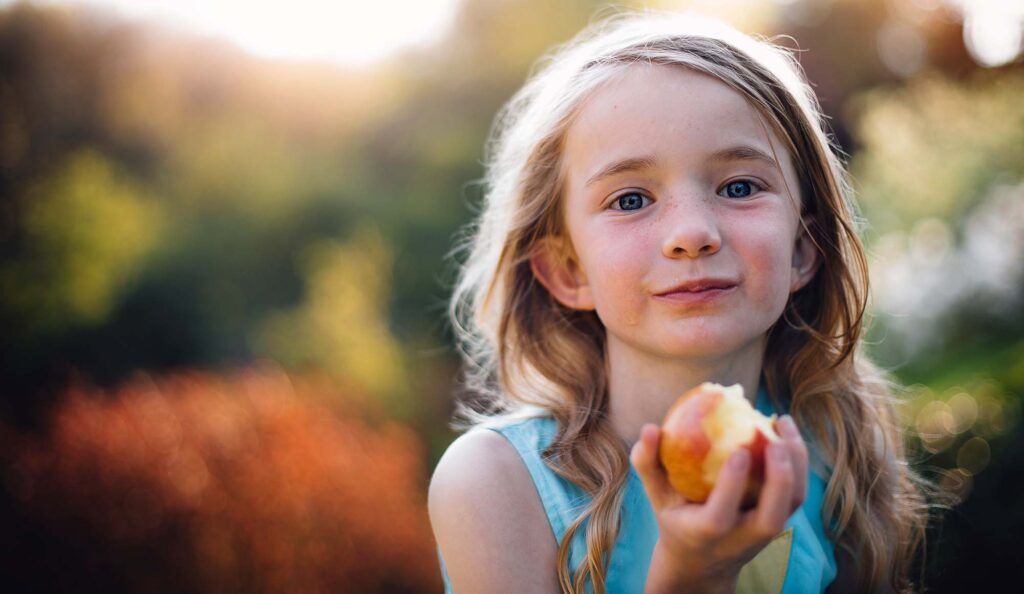 In Virginia, mid-September to mid-October is prime time for apple picking. Not only is it a fun fall activity for the whole family, but there are numerous health benefits to eating apples – especially for your teeth! In this installment of Just What the Dentist Ordered, we're highlighting how nutrients and vitamins in apples can improve your health.
Are apples good for you?
Along with other crunchy fruits and vegetables such as pears, celery and carrots, apples are great for maintaining healthy teeth since they have high water content that naturally dilutes the refined sugar within them, actively working to prevent plaque buildup. The biting and crunching involved stimulates saliva that washes away food particles and prevents bacteria from feeding on the sugar and turning it into acid, which typically attacks tooth enamel and may cause tooth decay.
The benefits of eating apples
Apples are also a great source of antioxidants and other nutrients that may strengthen immunity and improve the body's ability to fight bacteria and inflammation, all of which can help protect the teeth and gums. More specifically, apples are rich in fiber, vitamin C and potassium. On average, a medium-sized apple provides the following:
13-20% of a person's daily fiber needs
9-11% of a person's daily vitamin C needs
4% of a person's daily potassium needs
While fiber appears to help manage blood pressure, vitamin C, alongside other antioxidants, boosts the immune system and helps defend the body from infections and diseases. Potassium helps relax the blood vessels, reducing the risk of high blood pressure. In other words, apples are great for not only your oral health, but your overall health as well. Looking for a place to pick apples in Virginia? Find an apple orchard near you.
Eating healthy and making good food choices can go a long way in protecting your health, but regular dental checkups are essential to ensuring a healthy smile. For more information on the importance of oral health, click here.
Comments
comments