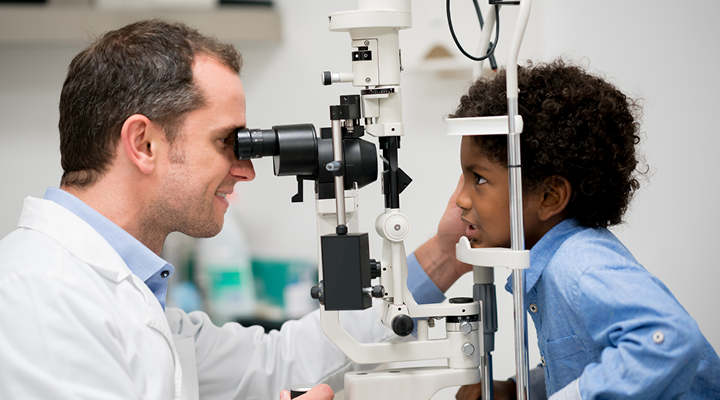 You know it's important to visit the dentist twice a year for preventive check-ups, but did you know yearly vision exams are equally as important? Eye exams are essential for children because they may help identify or prevent underlying vision issues before they worsen. And by visiting the eye doctor every year, you can monitor the vision health of your children to determine if changes occur over time. 
Additionally, regular exams may reveal early warning signs of other health conditions. An optometrist can detect signs of hypertension, cardiovascular disease and even diabetes. They also check for cataracts, glaucoma, macular degeneration and sight deficiencies, such as:
How Do Eye Doctors Discover Underlying Vision Issues?
Vision isn't just about seeing 20/20. To be successful in school, a child needs strong eye-focusing ability, hand-eye coordination and more. Click here for a complete list of vision skills needed for reading and learning from the American Optometric Association.
Signs that your child may have vision problems include:
Complaints of discomfort, headaches or tiredness
Frequent eye rubbing or blinking
Short attention span
Avoidance of reading, homework or other close activities
Covering one eye or tilting the head to see better
Holding reading materials close to the face
Eye turning in or out
Seeing double
Losing place when reading
Difficulty remembering what was read
If you think it's time for your child to have a vision exam. Here are just a few things the vision doctor may check for:
Vision
Periphery
Muscle
Response
Pressure
Dilation
During the exam, the eye doctor may also recommend a more comprehensive eye exam using a dilated eye exam. During this exam, the doctor uses eye drops to expand the pupil. The expansion allows the doctor to get a clearer look inside each eye.
What Else Do They Check?
Eye exams also serve as an opportunity to see how well — or not — your child can see. It's common for someone to think they have perfect eyesight until they wear a pair of glasses or contact lenses. Scheduling an appointment with an optometrist may help reduce time spent squinting and struggling to see.
How Often Should My Child get their Eyesight Checked?
According to the Center for Disease Control, a child's eyes should be checked:
once between birth and three months of age
once between six months and one year of age
around age three
at five years old
From there, an annual visit is recommended. However, you suspect a vision injury, potential loss of eyesight, or if your child complains about blurred vision, visit your eye care provider as soon as possible.
Do You Offer Benefits for Vision Services?
Yes! Delta Dental of Virginia has an array of DeltaVision® plans for individuals and employers offering access to the largest network of vision providers and eyewear retailers.1
Curious about eye health? Check out this blog for more information. 
1VSP, 2021.
DeltaVision is underwritten by Stryden, Inc., an affiliate of Delta Dental of Virginia. Claims processing, claims service, and provider network administration for DeltaVision are provided under contract, by VSP. VSP is a registered trademark of Vision Service Plan.
Comments
comments